Wonderful High Heels 3D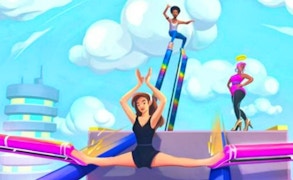 Wonderful High Heels 3D
Game aficionados and casual players alike, lend me your virtual ears, as I delve into the mesmerizing realm of Wonderful High Heels 3D, a standout addition to the vast world of Hyper Casual Games. This dynamic thrill ride is a must-try amongst running games, promising an unparalleled gaming experience that keeps you on your toes.
The game boasts a plethora of levels, each more challenging than the last. As you progress, you'll discover that the difficulty escalates appreciably but effortlessly, maintaining an impeccable balance between fun and challenge. With every new level in Wonderful High Heels 3D, you break free from the shackles of mundanity and venture into exciting new territories with intricate mechanisms waiting for your skillful cracking.
No two tracks are identical in this game. The terrain morphs to keep you engaged and constantly surprised. The ability to explore uncharted territories and adapt to changing mechanics encapsulates what it means to conquer in this electrifying game.
But what's a game without rewards? Wonderful High Heels 3D showers you with richly deserved compensations every time you successfully complete a level. Whether it's upgrading your equipment or unlocking cool accessories for your avatar, these rewards add an extra layer of joy and motivation for players.
To sum it up, Wonderful High Heels 3D is more than just a running game; it's an adrenaline-pumping adventure that tests your patience, reflexes, and strategy all at once. So gear up gamers, it's time to immerse yourself in this rollercoaster ride of fun!
What are the best online games?