Woblox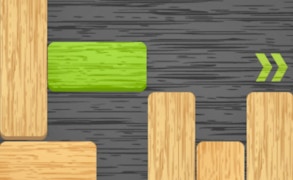 Woblox
Description
In Woblox, take on challenging puzzles that require methodical movement of blocks to free the green block. You must carefully slide each block within the confines of the stage to create a clear path for the green block to follow. The challenge progressively increases with each level, demanding keen foresight and strategic thinking. Perfect for those who enjoy brain teasers and puzzles.
How to Play
The main goal in Woblox is to move the blocks strategically to create an open route for the green block towards the gap. Blocks can only be moved along their respective horizontal or vertical lines. The game progresses as you successfully guide the green block into the gap, leveling up for more complex challenges.
Tips and Tricks
Planning ahead is key in Woblox; avoid rash moves that may obstruct your path later on. Aim to make moves that keep as many paths open as possible, ensuring mobility of your blocks later. Be persistent, some levels may require multiple tryouts before revealing the correct sequence.
Features
Intricate Puzzles: Offers variety in complexity and design, ensuring a stimulating mental workout.
Progressive Difficulty: Increasingly challenging levels test both patience and problem-solving skills.
Clean Graphics: Simple yet appealing visual design promotes focus on puzzle solving strategy.
User Friendly Interface: Easy-to-understand controls suitable for all ages.
What are the best online games?