Wobble Man Online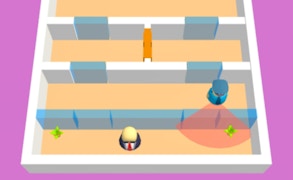 Wobble Man Online
Enter the adrenaline-pumping digital world of Wobble Man Online - a captivating blend of Skill Games, Hyper Casual Games, police games, and escape games. This 3D puzzle game, filled with thrilling challenges and mind-bending puzzles, offers an intense journey of danger and stealth.
In the heart of Wobble Man Online's gameplay is an innovative feature – a range of sight marked in vivid red areas. The key to survival? Dodge it carefully to avoid alerting your pursuers - a clever twist that intensifies every move you make and adds an exhilarating layer to the game's core mechanics.
The goal might sound simple: open the door and proceed to the next level. But as any seasoned gamer knows, in a universe this detailed and immersive, simplicity is deceptive. Key retrieval is an absolute must - without it, eagerly sought escape becomes an impossibility. This element brings a strategic angle to Wobble Man Online's frantic pace, forcing players to adapt quickly or face capture.
This game doesn't merely demand skill; it refines it. With each passing level – each narrow escape – you're transformed into a more acute strategist and agile problem-solver. Proof that arcade games can be just as intellectually challenging as they are hyper-casual, Wobble Man Online takes the genre to new heights.
This fusion of Skill Games, Hyper Casual Games, police games, and escape games makes Wobble Man Online a magnetic addition to any gaming arsenal. As its subtleties unfold with every level navigated and door unlocked, gamers will find themselves irresistibly drawn into its web. Can you outsmart your captors? Can you escape from the intriguing labyrinth that is Wobble Man Online? One thing is certain; trying has never been this fun!
What are the best online games?