Winter Ice Skating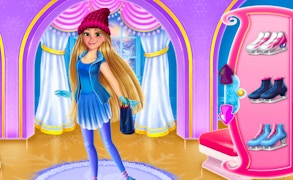 Winter Ice Skating
Step into the wintry world of Winter Ice Skating, an enchanting game that masterfully combines elements of Princess Games, Christmas Games, and Dress Up Games. Get ready to guide two delightful princesses on their chilly journey as they venture out on a frosty ice rink, combining the excitement of puzzle gameplay with the creativity of fashion.
Winter Ice Skating brilliantly integrates the festive spirit of Christmas games, offering a snowy backdrop that is both idyllic and magical. But don't be fooled by its seemingly tranquil setting; this game requires some serious sartorial skills! As one of our top-rated Dress Up Games, it challenges players to concoct stylish and warm outfits for our princesses, making for an engrossing gaming experience.
The essence of Princess Games really shines through as you play style consultant for our two royal characters. With a dazzling array of clothing options at your disposal, creating exquisite winter ensembles is truly a joy. The attention to detail in wardrobe design is remarkable, adding depth to the gameplay and authenticity to the princess theme.
A unique addition is its fusion with elements from Hairdresser Games. Your fashion savviness is put to test here as you match hairstyles with outfits, making every choice count. As a part of this hairdressing challenge, you can experiment with different styles from glamorous waves to chic updos, keeping every playthrough fresh and exciting.
Last but not least, Winter Ice Skating weaves in the glamour and allure of Fashion Games. It's all about trendsetting here - mix and match trendy pieces with vintage classics or go all out haute couture. This added layer enhances the play experience manifold, making it not just a game but a showcase for your personal style statement.
All in all, Winter Ice Skating delivers an intriguing blend of different gaming genres wrapped up in one captivating package. Its seamless merging of Princess Games, Christmas Games, Dress Up Games, Hairdresser Games and Fashion Games makes it a must-try this winter season!
What are the best online games?