Wings Rush 2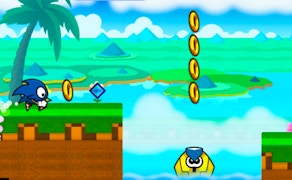 Wings Rush 2
Step into the breath-taking, pixel-perfect world of Wings Rush 2, the latest high-octane entry in the genre of running games. This adrenaline-fueled sequel offers players an unbeatable blend of fast-paced action and hair-raising platforming, pushing your reflexes to their absolute limits.
As soon as you hit 'Play', you're swept off your feet by Wings the Bird, our daring protagonist. This airborne avian dashes, jumps and spins his way through exquisite 2D environments. From the lush greens of the 'Green Hill Zone' to the gleaming crystalline labyrinth of the 'Marble Zone', and onto the sun-kissed dunes of the 'Desert Zone', each level brims with color and challenges that will test even the most experienced Skill Games legends.
The sheer number of obstacles Wings faces is overwhelming: dodging, ducking, leaping - it's a non-stop acrobatic thrill ride that never lets up. And did we mention rings? Collect as many as you can for your perilous journey, they're not just shiny baubles here. Each ring collected propels you closer to unlocking new characters, each faster and more exciting than the last.
The bottom line? Wings Rush 2 redefines what a running game can be. It's an intense, relentless adventure that keeps players on their toes from start to finish. Whether you're a long-time fan or new to Wings's universe, this entrancing game ensures hours upon hours of edge-of-your-seat enjoyment. It's time for Wings to spread his wings and soar – are you ready to join him?
What are the best online games?
TAGS