When Granny Met Grimace Shake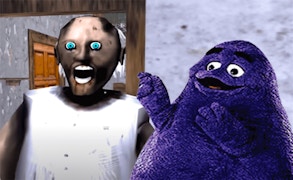 When Granny Met Grimace Shake
Welcome, gaming aficionados! Take a deep dive into the twisted yet hilarious world of When Granny Met Grimace Shake. A unique blend of skill-games and granny-games, this puzzle adventure offers an unforgettable experience that's perfect for the lovers of the acclaimed skibidi-toilet tag.
This game is no run-of-the-mill granny story; it's a brilliant concoction of quirkiness and intellect, demanding both your attention and problem-solving prowess. Guiding our beloved granny through a series of challenging, yet comedic scenarios with Grimace – that's the drill at hand!
The first element that strikes you about When Granny Met Grimace Shake is its vibrant art style. The characters are wonderfully detailed and expressively animated, giving life to Granny's eccentric journey. Meanwhile, Grimace – with his shake-induced antics – adds an extra layer of hilarity.
The puzzles are another strong point of the game; they're cleverly integrated into the narrative, providing a seamless blend between the storyline and gameplay. They're designed to test your skills and patience in equal measure – rest assured every solved puzzle will bring you a sense of hard-earned achievement!
The crux of When Granny Met Grimace Shake lies in its charming absurdity mixed with engaging mechanics inherent to skill-games. Despite featuring age-old characters such as Granny, it presents a refreshing take on the genre.
In conclusion, When Granny Met Grimace Shake is an absolute must-try for anyone keen on challenging their grey cells while amusing themselves with toilet humor stamped all over it courtesy of skibidi-toilet. If you are a sucker for granny-games, you'll find an unusual ally in Granny and her intriguing escapades. Brace yourself, a mind-boggling yet hilarious journey awaits!
What are the best online games?