Web Ski Christmas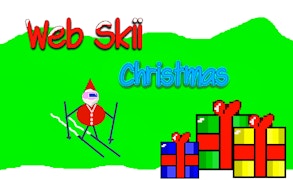 Web Ski Christmas
Description
In Web Ski Christmas, you'll aid Santa Claus in his mission to retrieve all the scattered presents on the mountain. Speed past tricky obstacles as you ski your way to every last gift. This game combines the fun of sports, the thrill of an arcade game and elements of an adventurous quest that will keep you hooked for hours.
How to play
To play, you need to control Santa's movement as he skis downhill in pursuit of the lost gifts. The arrow keys are used for navigating left and right, while ensuring he maintains his balance and speed. Remember, every gift counts towards your final score!
Tips and Tricks
While speed is important, maintaining control of Santa is crucial for a high score. Get familiar with the various slopes and turns on this mountainous terrain. Don't overlook any presents; they're not always in plain sight!
Features
An exciting arcade-style skiing gameplay
A festive Christmas theme, perfect for holiday gaming sessions.
A challenging adventure requiring skill and precision.
Suitable for all ages and gaming abilities.
What are the best online games?