Watermelon Day 2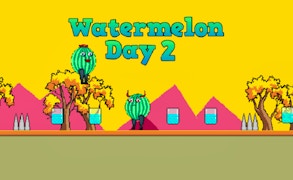 Watermelon Day 2
Description
In the delightful sequel Watermelon Day 2, you control a whimsical Watermelon man on a mission to gather water glasses and survive a peril-laden world filled with hostile watermelons, floating hazards, deadly spikes, and massive blades. Your goal is to traverse each level successfully, facing increasing difficulty as you progress through the 8 levels towards the safety of the blue flag.
How to play
To control your Watermelon man adventurer, use either the "WASD" keys or the "Arrow" keys. To overcome towering obstacles or reach high platforms, perform a double jump by pressing either the "W" or "Up" arrow key twice rapidly. Always aim for the blue flag that signifies level completion.
Tips and Tricks
Avoid rushing into unexplored areas which can lead to unexpected hazards. Timely use of your double jump is key for avoiding enemies and obstacles. Remember to pace yourself and study patterns in enemy movements and hazard timing. This will greatly increase your chances of survival.
Features
Charming 2D graphics: visually appealing gameplay that keeps you engaged.
Increasing Difficulty: Each level offers new challenges that progressively become harder.
Puzzle-based platformer: Use clever moves and timing to navigate through each level.
Arcade-style Controls: Simple controls reminiscent of classic arcade games.
What are the best online games?