Water Slide Car Race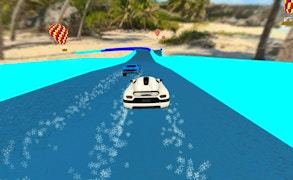 Water Slide Car Race
Rev your engines and prepare for a wild ride as we dive into the exciting world of Water Slide Car Race, a unique fusion of car games and drifting games, purposefully designed to satisfy all your adrenaline-pumping needs.
The essence of Water Slide Car Race lies in its exhilarating blend of high-speed racing and precision drifting, with the added thrill of navigating treacherous water slides. While many driving games stick to solid ground, this game breaks that mold by emphasizing agility and control under the cleansing rush of unstoppable water.
Multiple levels ensure that every ride you embark on feels fresh and new. Diverse challenges await - from high-speed sprints down straightaways to adrenaline-fueled drifts around tight corners, every level adds a new layer of complexity, evoking a sense of progression that's addictive and compelling.
The game shines even more through its assortment of multiple cars. Each vehicle, from sleek sports cars to rugged trucks, has its unique handling properties, adding depth to the gameplay while allowing you to tailor your racing experience according to your preferred style.
Beyond racing and drifting, Water Slide Car Race ventures into the realm of survival games. The key to success lies not only in speed but in smart driving and adaptability against the rushing water's merciless push.
In conclusion, Water Slide Car Race provides an innovative take on traditional car games by blending elements from drifting games, driving games, and survival games. So strap in, hold tight, and prepare for an unforgettable ride with diverse challenges awaiting you at every twist and turn.
What are the best online games?