Wallbound Explorer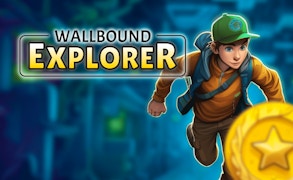 Wallbound Explorer
Bring your cunning and dexterity to the forefront as you dive into the enchanting world of Wallbound Explorer, a fascinating fusion of puzzle and arcade genres, with the captivating thrills of skill-games. This game not only challenges your reflexes but also engages your mind, stimulating an undiscovered sense of adventure and logic deep within you.
Intrigue fuels every corner in the cunningly designed mazes of Wallbound Explorer. Each maze is a unique world on its own, daring you to master its intricacies through wall-bound movement. The walls are not simply boundaries - they become your guide, your anchor amidst the exhilarating chaos.
Every maze holds treasures. The exhilaration of discovering gleaming coins strategically placed around every corner adds an additional thread to the captivating tapestry of Wallbound Explorer. Gathering these coins isn't just rewarding, it's a thrilling chase that pushes you to think fast and move faster.
The true beauty of Wallbound Explorer, however, lies in its ingenious blend of challenge and fun. As each level increases in complexity, so does the satisfaction from conquering it. Every completed puzzle isn't just a victory; it's a testament to your growing abilities as an ultimate explorer.
In conclusion, Wallbound Explorer is a triumph in the realm of puzzle and arcade games. It refines and elevates skill-based gaming to create an experience that is exciting at every turn, clever in every detail. If you have an appetite for adventure and thirst for challenge, then Wallbound Explorer is a game experience well worth embarking on!
What are the best online games?
Tags