Wake up Buddy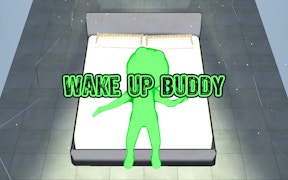 Wake up Buddy
Step into the exhilarating world of Wake up Buddy, a truly unique member of the stimulating and ever-growing genre of Hyper Casual Games. As one of the most engaging arcade-style stickman games out there, Wake up Buddy captivates gamers with its riveting gameplay and innovative concept. The simple yet captivating charm of this game will indeed make you question - Can waking up a tired buddy be this entertaining?
Serving as a refreshing addition to ball games, Wake up Buddy stands out, challenging you to navigate through intriguing incidents after an epic party! Did someone oversleep work? Let the frenzy unfold as you try to shake your friend awake with a grenade! This whimsical touch is just one of the many aspects that transform this game from an ordinary hyper casual game into something truly special.
Apart from being just offline fun games, Wake up Buddy also allows for extensive player customization. Whether it's upgrading your tools or spiraling down into the innovative interior designs, Wake up Buddy ensures that there's never a dull moment. The power-ups add another dimension to the game, enhancing its overall appeal and making it much more than just another among stickman games.
The quirky humor, intense ball games action, and engaging upgrade system all come together to create an uniquely captivating gaming experience in wake up buddy. Whether you're a fan of hyper-casual games or just looking for some simple, enjoyable fun – Wake up Buddy is sure to delight!
In conclusion, Wake Up Buddy breathes fresh life into stickman games and ball games alike, offering a fun-filled experience that players can't get enough of. Its incredible blend of arcade action and casual enjoyment makes it one worth adding to your gaming repertoire!
What are the best online games?