Virus Attack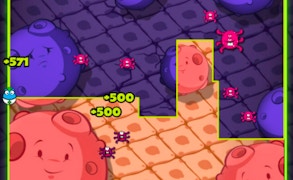 Virus Attack
In the bustling universe of arcade games, few are as heart-pounding and skill-demanding as Virus Attack. This adrenaline-fueled thrill ride stands tall in the realm of skill games and survival games, offering gamers a relentless battle against a hoard of menacing disease-causers.
At its core, Virus Attack serves up an intoxicating concoction of strategy and speed. It challenges you to claim portions of the screen by weaving lines, a mechanic that adds an innovative twist to the gaming experience. However, it's not exactly a walk in the park; with deadly viruses lying in wait to obliterate your lines, survival becomes more precarious with each passing second.
Free from excess complexity, Virus Attack skilfully hits that sweet spot where simplicity and challenge merge to form an electrifying gaming experience. The game's design stays faithful to classic arcade aesthetics while adding a dash of modern flair. The result is a visually captivating landscape that keeps you glued to the screen.
Virus Attack isn't just about surviving either; it's about mastering impeccable timing and honing your strategic thinking skills too. Every move requires precision, every decision has far-reaching consequences. This adds an intense element of skill-based gameplay which should appeal immensely to fans of both survival and skill games.
In conclusion, Virus Attack is a powerhouse in the arcade gaming scene. Its combination of strategy-based gameplay and thrilling survival aspects makes it an unforgettable journey through digital pathogens. If you're looking for your next big challenge in arcade gaming, this just might be the virus you won't mind getting infected by!
What are the best online games?