VIK The Climber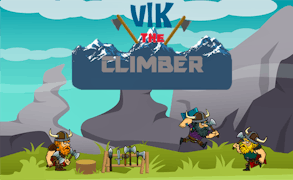 VIK The Climber
Description
Ascend to greatness in VIK The Climber, a fun and challenging arcade game. Play as VIK, an adventurous character who's on a quest for riches. Your mission is to collect as many coins as possible while skillfully avoiding pitfalls such as barriers, menacing dragons, unruly barbarians, and even the mighty ZEUS. Adding to the quirky charm of the game is that all sound effects were created using the developer's voice!
How to play
The game mechanics in VIK The Climber are simple: just tap or click to jump and avoid obstacles on your way up. You'll also need to time your jumps perfectly to collect coins floating in mid-air. As you progress further in the game, the pace quickens, making it a thrilling test of your agility and reflexes.
Tips and Tricks
To attain high scores in VIK The Climber, maintaining a steady rhythm is key. Remember not all coins need to be collected - sometimes it's more important to focus on avoiding obstacles. And don't forget - dragons might appear intimidating but they move in predictable patterns!
Features
A skill-based arcade game that tests your quick thinking and reflexes.
Funny and original sound effects created by the developer's voice.
A variety of enemies like dragons, barbarians, and ZEUS.
An endless mode gameplay offering infinite replay value.
What are the best online games?