Vampire Dress Up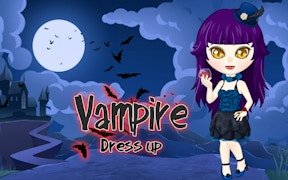 Vampire Dress Up
Swing open the gates to a world of spine-tingling fun with the Vampire Dress Up game — an enchanting feast for all little fashionistas with a taste for the mysterious. Specifically hewn with girls who dig the dark charm of vampire themes such as Hot Topic, this game is a thrilling blend of Games for Girls, dress up games and makeup games, making it one of the most engrossing Games for Kids.
Dive into an immersive fashion adventure where you can pick your vampire girl's eye color and lashes, crafting bewitching looks that would charm even the undead. With a plethora of color tones to choose from, your makeup creativity will be challenged and gratified in equal measure.
The captivating journey doesn't end here! The game features an array of vampire theme dresses to mix and match. Immerse yourself in the world's most exclusive supernatural couture and style your vampire doll. Add a dash of elegance with tiaras, jewelry, and earrings, raising the style stakes higher than ever.
The shoe selection will leave you spoiled for choice! Whether your vampire gal prefers stilettos or boots, you'll be able to customize her look down to her toes.
The game's backdrop is as exciting as its wardrobe. Set against dark, vampire-themed backgrounds that perfectly set off your hauntingly beautiful creations. And as you dive deeper into your design journey, there's no need to worry about losing your designs - you can easily save them in the gallery.
Last but not least, ambient vampire music wraps up this delightful experience – making Vampire Dress Up not just a game but truly an experience to remember!
What are the best online games?