Valkyrie RPG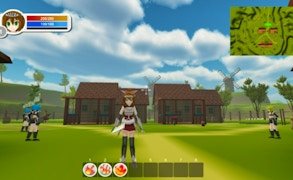 Valkyrie RPG
Step into a realm of legend and lore with the Valkyrie RPG, a game that effortlessly marries the thrill of sword games and monumental battle games with the explorative joy of Open World Games. Immerse yourself in an experience that will leave you eagerly seeking out more daring adventures, becoming the hero or heroine you were always meant to be.
Don your armour as a stalwart knight, brandishing your skills in this masterfully crafted RPG gameplay. There is truly something awe-inspiring as you traverse through the mystical realms, encountering multiple worlds that each hold their own unique allure. Whether it's the icy tundras or the perilous peaks, each step is another layer in your heroic tapestry.
A world teeming with multiple enemies, Valkyrie RPG tests your mettle like few other Skill Games can. Each foe is another testament to your prowess, pushing you to your limits as you harness the power of strategy and quick thinking. Adaptability is key; every fight requires a tailored approach and strategy, making every victory a sweet reward.
The game shines even brighter in its offering of intriguing Quests – turning points that shake up gameplay and keep players on edge. Every quest encounter forms an epic saga of its own; trials and tribulations that will challenge even the most seasoned gamers.
In conclusion, if you're seeking an enthralling blend of traditional knightly valor, thrilling swordplay, strategic battles, expansive open-world discovery, and tangible skill development- look no further than Valkyrie RPG. This game beautifully combines all these elements into one power-packed adventure. Truly a must-have for every gaming connoisseur!
What are the best online games?