US Cargo Truck Driver Racing Game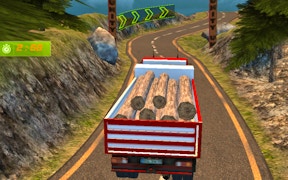 US Cargo Truck Driver Racing Game
Get ready to rev your engines and experience the adrenaline-fueled thrill of the open road with the US Cargo Truck Driver Racing Game. This engaging entry in the realm of truck games, driving games, and, notably, offroad games, will have you on the edge of your seat from start to finish line. Brace yourselves and get behind the wheel in one of the most immersive simulator games on the market.
Taking on tricky terrains and mastering monstrous vehicles isn't a task for the faint-hearted. This game truly tests your expertise with challenging missions that require not only driving prowess but arduous attention to detail. The thrill of commanding a vibrant, heavily-loaded cargo truck across changing landscapes will leave you breathless and begging for more.
The US Cargo Truck Driver Racing Game sets itself apart from its peers in the racing genre with its captivating combination of heavy-duty cargo transportation and high-speed races. Delivering heavy wood or various other demanding cargoes safely is no cakewalk. It's a task that requires dexterity, strategy, and nerves of steel - precisely what die-hard fans of trucking simulators are searching for!
The heart-racing pressure increases as missions become more challenging, making every ounce of progress feel like a well-earned victory. Each successful delivery feels rewarding as it brings you one step closer to earning bountiful rewards and unlocking powerful new trucks.
All in all, if you're a fan of gripping racing mechanics combined with polished simulator elements all enveloped within an offroad setting - then this game is right up your alley! Whether you're a seasoned driver or simply a lover of thrilling gameplay, brace yourself for an unforgettable ride with this juggernaut in the world of trucking games.
Turn on those wipers, tune into your favourite radio station, grip that steering wheel tight - it's time to hit those offroads! Let's see if you have what it takes to be crowned the ultimate US Cargo Truck Driver.
What are the best online games?