US Army Vehicle Transporter Truck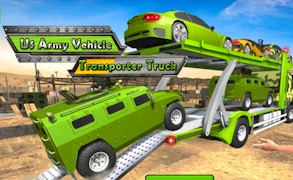 US Army Vehicle Transporter Truck
For all the adrenaline junkies and military enthusiasts out there, prepare for a new thrilling ride with the US Army Vehicle Transporter Truck game. This immersive addition to your collection of truck games, tank games, and driving games promises an exhilarating blend of precision, strategy, and adventure.
In this riveting driving simulation game, the player is not only a formidable truck driver but also an efficient military vehicle transporter. As you traverse through various terrains, you will be tasked with transporting both tanks and cars to designated military bases – a mission that demands your utmost attention and skill.
The game begins by challenging the player's abilities in parking games and skill games. Before each mission, gamers are required to masterfully drive the tanks and cars on or off the truck. Keep your cool under pressure as successfully navigating these massive vehicles onto the transporter truck is a feat in itself.
The true essence of the US Army Vehicle Transporter Truck game lies in its ability to combine elements of different genres into one consistent storyline. From precision parking to expert navigation, from handling rugged tanks to sleek cars - each aspect requires concentration coupled with deft maneuvering skills.
To sum it up, US Army Vehicle Transporter Truck provides an engaging gaming experience that tests not just your driving skills but also your strategic planning abilities. So gear up for this virtual journey where each level brings new challenges and opportunities to prove your mettle.
What are the best online games?