Uphill Offroad Bicycle Rider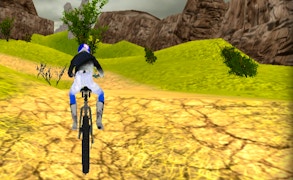 Uphill Offroad Bicycle Rider
Step into the high-octane, adrenaline-charged world of Uphill Offroad Bicycle Rider, a game that blends the thrill of dirt bike games and motorcycle games with the unpredictability of offroad games. The title perfectly encapsulates the exhilarating experience of scenario-based mountain biking, with players having to rely on their driving skills, agility and speed to come out on top.
If you thought cycling was just another fitness activity, you're in for a surprise. The game provides a full-throttle, pedal-mashing adventure that shifts gear from conventional driving games. Command your BMX MTB Mountain Bike with a robust grip on the handlebars and unleash your freestyle biking skills in the wild landscapes of Hill Climb Racing.
Fans of dirt bike games will appreciate how every twist and turn brings new challenges and obstacles to overcome. Whether it's racing against time or battling gravity on steep inclines, each level promises an electrifying gaming experience that's anything but mundane.
The thrill doesn't end there. Flick switches between calm determination and maniacal obsession as you kick fast paddle to perform stunts. The game celebrates the daredevilry and audaciousness of offroad biking in its purest form.
Beyond just another addition to the genre of motorcycle games, Uphill Offroad Bicycle Rider offers an immersive experience that maintains its momentum throughout. It's here where you feel every bump, every skid, every triumphant jump over natural trials framed by visually stunning backdrops.
In conclusion, Uphill Offroad Bicycle Rider is a high-impact racer that provides an exhilarating fusion of dirt bike games, motorcycle games, and offroad games. For those with a penchant for speed mixed with a splash of daredevil antics available at their fingertips – this is one ride you don't want to miss.
What are the best online games?