UNO Heroes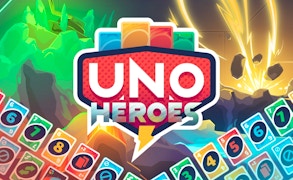 UNO Heroes
Enter the vibrant, mind-bending world of UNO Heroes, a fresh spin on the much-loved family game that tactfully combines traditional UNO gameplay with an addictive twist – unleashing superheroes! This captivating board game distinctly stands out amongst numerous brain games and family games flooding the current market.
In UNO Heroes, your mission transcends merely winning games. Every triumph brings you a step closer to your ultimate goal - freeing the locked superheroes. The rules, reminiscent of classic UNO, are incredibly straightforward ensuring both rookies and veterans quickly ease into the gameplay. The exhilarating rush of competition heightens as players race to exhaust their hand - a thrilling crescendo punctuated by a victorious declaration of 'UNO'!
While many fans bask in nostalgia when playing UNO, UNO Heroes adds an exciting layer of involvement with its unique character unlock feature. The thrill of guiding your favorite superhero out of captivity adds an unforeseen level of engagement and purpose to each game, forcing players to strategize carefully.
Your second-to-last card signifies you're on the brink of victory. Don't forget to tap that UNO button; it's not just about reducing your hand but beating opponents at their own game! This subtle yet crucial maneuver can mean the difference between freedom for your superhero or another round in captivity.
In conclusion, UNO Heroes is an innovative amalgamation of simplicity and strategic depth making it an ideal pick among family games. It engages your brain, tickles your strategy bones, and brings in waves of laughter and enjoyment - perfect for those fun-filled family game nights!
What are the best online games?
Tags