Uncle Ahmed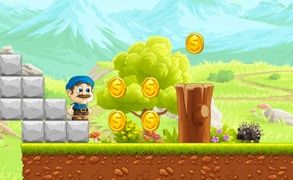 Uncle Ahmed
Unleash your inner hero with the thrilling Arcade game, Uncle Ahmed. Fueled by skill, adventure, and a hefty dose of fun, it's a compelling plunge into a universe filled with enigmatic monsters, dark magicians and daring rescues. One of the top picks in our Skill Games and Games for Kids categories, Uncle Ahmed offers an immersive gaming experience for both beginners and advanced gamers.
The game presents you with an intriguing premise: your role is as Uncle Ahmed, on an audacious mission to save his favourite nephew from the clutches of a sinister magician. Navigating through mysterious mazes and battling monstrous creatures will test your perseverance and tactical skills.
Ingeniously crafted for kids, Uncle Ahmed is more than just one of those run-of-the-mill Monster Games. It's a perfect concoction of adventure and learning that helps kids improve their problem-solving abilities while being thoroughly entertained. The engaging sound effects give life to Uncle Ahmed's daring journey; each magical spell cast or monster defeated reverberates an exciting echo that will have players hooked in no time.
The controls are intuitive so even the youngest players can join Uncle Ahmed on his adrenaline-packed quest. With its captivating storyline and stimulating challenges, this game sets a new benchmark for arcade games aimed at kids. So grab your wizard hat and prepare for an unforgettable gaming quest - it's time to help Uncle Ahmed emerge victorious!
Uncle Ahmed, offering thrilling monster battles, strategic decision making, enduring quests making it one of the most loved arcade skill games for kids. Gameplay that takes you on a riveting ride filled with monsters and magic; get ready to step into the shoes of Uncle Ahmed and immerse yourself in an unforgettable arcade experience.
What are the best online games?
Tags