Ultimate Douchebag Workout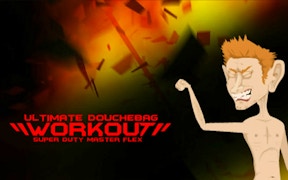 Ultimate Douchebag Workout
Throw off your shackles, get in gear and prepare to sweat it out in the most entertaining adrenaline-pumping, muscle-building experience - the Ultimate Douchebag Workout. This isn't your regular sports venture; it's an amalgamation of gymnastics games, Skill Games, and a whirlpool of pure unadulterated fun that reels you in and refuses to let go!
If you've been scouring the gaming realm for something unique, engaging, and downright exhilarating - congrats, your search ends here! In Ultimate Douchebag Workout, it's not about playing by the rules. It's about bending them to suit your style. Whether it's making use of those sketchy herbs or opting for other less-than-healthy options, the rule of the game is simple: 'It does not matter how you get there, as long as you get there!'
Tan up and put on that swagger as you embark on a journey ripe with countless challenges. Ultimat Douchebag Workout brings together all aspects of Skill Games seamlessly while incorporating elements of gymnastics games. Fun games are dime-a-dozen these days but this game stands out for its unique premise.
Tone up those biceps, sculpt those abs into a masterpiece admired worldwide and transform into an ultimate version of yourself. But remember: it's not all about flexing those muscles. It's about having a good time. With its tongue-in-cheek humor, Ultimate Douchebag Workout ensures that every moment spent playing is filled with laughter and amusement.
In essence, if you're looking for a fun-filled fitness frenzy that keeps you on your toes while tickling your funny bone at every twist and turn - buckle up! Your adventure is just one click away with Ultimate Douchebag Workout!
What are the best online games?