Ultimate Connect 4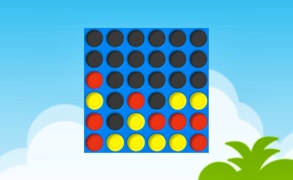 Ultimate Connect 4
Welcome to the fascinating world of Ultimate Connect 4, a classic favourite among family games. With this beloved game, family time becomes a thrilling display of strategic maneuvers, plotting, and instant rewards.
The alluring simplicity of Ultimate Connect 4 belies its deep tactical layering. Each player aims to align four pieces of their color in a horizontal, vertical, or diagonal row. The crux of the game revolves around outsmarting your opponent and anticipating their next move. This makes it not just a test of luck but also a test of wits.
One standout feature in this game is the option to select the number of rows and columns to play with. This injects novelty into each game session as players can alter the level of complexity to match their strategic prowess or mood. Whether you're looking for an intricate maneuvering session or just some quick playful rounds, Ultimate Connect 4 has got it all covered!
As one of the best 2 player games, Ultimate Connect 4 bridges generation gaps with its straightforward rule set and universal appeal. It doesn't matter if you're eight or eighty; this timeless board game will keep you hooked!
Whether it's a rainy afternoon indoors with family or an intense face-off between friends on a chill weekend night, Ultimate Connect 4 is always ready to infuse thrill into your day-to-day life. Take it along on picnics or serve it up as the main event during gatherings; it's your perfect partner for endless moments of fun.
In summary, if you're searching for a game that combines light-hearted entertainment with mind-boggling strategy elements, look no further than Ultimate Connect 4. It's more than just a board game; it's an experience that will keep players from all generations challenged and entertained round after round.
What are the best online games?