Type Or Die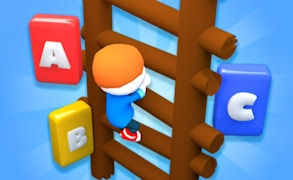 Type Or Die
Delve into the exhilarating world of Type Or Die, a game that effortlessly integrates elements of trivia games, word games, and educational games. The premise? An enthralling typing race combined with a strategic puzzle challenge guaranteed to keep you hooked from start to finish.
Packed to the brim with learning opportunities, Type Or Die is the epitome of learning games. It prompts players to memorize words related to various categories such as vegetables, fruits, countries, etc. Not just a mere game, but it's an intellectual journey that captain's your knowledge ship through the thrillingly treacherous waters of trivia and vocabulary.
The game isn't forgiving either. Struggle with an answer? Get ready for a flood! Indeed, the stakes are high. Slow progress or incorrect answers result in your character being submerged in a rapidly rising flood. The only way out? Answer swiftly and correctly or get ready to meet your watery doom.
Type Or Die also incorporates elements from popular stickman games. Both your character and AI opponents are portrayed as quirky stick figures vying for supremacy atop ladders where every rung represents a new question checkpoint.
This game compels you into an adrenaline-fueled scramble through its levels, keeping you on edge as you frantically type out the correct words to survive. With a dash of strategy, a sprinkle of suspense and bucket-loads of fun, Type Or Die personifies an exciting fusion between trivia and word games in one captivating package.
The bottom line? Type Or Die is an addictive educational game that educates, entertains and engages in equal measure. If you cherish vocabulary challenges married with thrilling gameplay mechanics, then gear up for Type Or Die: it's not just about having a good time; it's about typing fast or facing inevitable defeat.
What are the best online games?