Two Tunnel 3D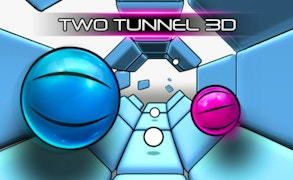 Two Tunnel 3D
Immerse yourself in the riveting world of Two Tunnel 3D, one of the best arcade, endless tunnel games that tests your reflexes in the most thrilling way possible. This game is a fantastic blend of ball games, running games, and skill games, offering an exhilarating experience to both single and multiplayer modes enthusiasts, thus making it one of the must-try 2 player games.
The gameplay of Two Tunnel 3D is centered around navigating a ball through infinite tunnels packed with gaps. The objective? Keep your ball on the path and avoid falling off into oblivion. As you progress, the difficulty amplifies; the balls speed up, control becomes more arduous, and attention to detail becomes crucial. Every level greets you with a different colored tunnel, adding to its visual appeal and the suspense of what lies ahead.
What sets this arcade game apart is its meticulously designed controls. A simple tap on either side decides your fate by moving your ball in correspondence, ensuring smooth gameplay even when things get fast-paced. Miss a platform, you fail; hit a spot on time - glory be upon you!
Your adrenaline will surge with every beat of the game's well-crafted soundtrack, creating an ambience that matches perfectly with its intense gameplay. While it's an excellent fit for solo players seeking an exciting challenge, Two Tunnel 3D also allows for engaging battles in its equally impressive 2 Player mode.
In conclusion, Two Tunnel 3D is not just another addition to the realm of arcade or skill games but is a standout in its genre due to its enthralling gameplay and captivating soundtrack. If you are passionate about ball games or running games that demand precision and reflexes, do not miss out on Two Tunnel 3D!
What are the best online games?