Two Cups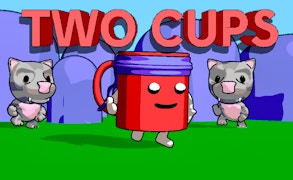 Two Cups
Description
In Two Cups, you'll be immersed in a heartwarming adventure as a brave cup on a mission to rescue its beloved partner, Cupgirl, from the clutches of a destructive cat. Your journey takes you across diverse landscapes filled with challenges. You must retrieve the scattered fragments of Cupgirl, put her back together and save the day. With its engaging storyline and vibrant pixel-art graphics, Two Cups promises an epic quest that will keep you engaged and entertained.
How to Play
Your task in Two Cups is to navigate your character through various stages while avoiding obstacles and confronting your nemesis, the cat. Use the arrow keys or W,A,S,D keys for movements - jump, slide or move sideways. Collect all fragments of Cupgirl in each level to progress further. Remember, every fragment counts towards saving your love.
Tips and Tricks
To succeed in Two Cups, always stay vigilant of your surroundings as the mischievous cat could appear unexpectedly. Prioritize speed but don't overlook hidden cup fragments. Mastering jump timing is crucial for avoiding obstacles and enemies. Lastly, practice makes perfect – don't be afraid of trial and error!
Features
Retro-style graphics: Classic pixel-art style provides a nostalgic gaming experience.
Innovative gameplay: Unique concept combining adventure and puzzle elements.
Addictive storyline: Engaging narrative that keeps players invested in their mission.
Variety of landscapes: Each level offers new scenes and challenges.
What are the best online games?
Tags