Two Ball 3D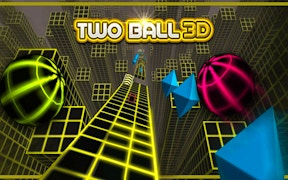 Two Ball 3D
Immerse yourself in the electrifying world of Two Ball 3D, a game that flawlessly combines the pulse-racing aspects of running games and the strategic elements of ball games. As you traverse through perilous routes composed of cubic obstacles, this thrilling arcade game will test your mettle and ability to adapt.
This spellbinding journey revolves around a simple objective - guiding your ball to the furthest point on the route, collecting precious diamonds along the way. Although it might sound straightforward initially, Two Ball 3D excels at creating complex challenges out of simple gameplay. Every cube is strategically placed, requiring precision and quick reflexes reminiscent of adrenaline-filled skill games.
The possibility to engage in exciting 1 or 2 player modes amplifies its appeal. Prove your prowess in solo mode, or rope in a friend for some fierce friendly competition, testament to the finest aspects of 2 player games. The inclusion of a diverse selection of bonuses available for purchase using collected diamonds adds an additional layer of strategy and excitement.
The 'Shop' feature is an intriguing addition; it lets you leverage those hard-earned diamonds to buy various bonuses, helping you navigate through those precarious cubic challenges. It's not just about speed and reaction time; this feature introduces a whole new level of strategy as you decide when and where to use your bonuses.
Two Ball 3D gives new meaning to 'on-the-edge' gaming experience- a must-try for fans of arcade games seeking a blend of strategy, skill, spot-on controls, and customizable gameplay options. If running games or ball games get your heart pounding - add this gem to your collection! Get ready for an immersive gaming spree that's as exhilarating as it's challenging.
What are the best online games?