Twins Family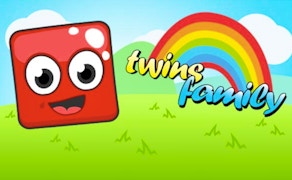 Twins Family
Prepare to be captivated by the enticing world of Twins Family, an enthralling addition to the realm of block games. This masterfully designed puzzle game is a marvel of craftsmanship, sure to tickle the fancy of both dedicated enthusiasts and casual gamers.
The principal charm of Twins Family lies in its enticing blend of simplicity and complexity. The gameplay revolves around moving blocks in one line to make them vanish, with the aim of leaving no block behind on the level. Despite its seemingly straightforward concept, every one of its 100 levels presents a unique challenge that will test and twist your mental agility.
Elevated by stunning visuals, Twins Family doesn't just satisfy your thirst for cerebral stimulation but also offers feast for your eyes. The blocks themselves are vibrantly colored, creating a pleasant contrast against the game's sleek backdrop.
In an era where mobile gaming is saturated with countless match-3 games, Twins Family offers a fresh and engaging alternative that stands out from the crowd. While it caters to fans seeking the familiar thrill of matching elements, this game goes above and beyond by adding layers of strategic depth that distinguishes it from typical match 3 games.
Last but not least, Twins Family shines as a fantastic family game, appealing across various age brackets. Whether you are playing alone or engaging in an exciting face-off with family members, it offers boundless entertainment that will keep you hooked for hours on end.
In conclusion, if you are a puzzle enthusiast searching for a novel gaming experience that will enchant and challenge you in equal measure, look no further than Twins Family – truly one of the most compelling block games currently available!
What are the best online games?