TRZ Pop it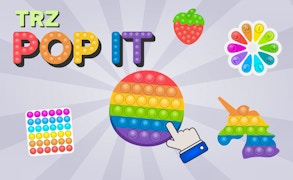 TRZ Pop it
Description
Dive into a world of relaxation and fun with TRZ Pop it, a delightful clicker game that offers hours of non-stop entertainment. Each level presents a new toy, filled with 'buttons' just waiting to be clicked! With 80 unique toys to unlock, your popping journey never ends. This is the perfect stress-reliever, combining simple gameplay with an engaging progression system. Just pop and unwind!
How to Play
The rules are simple - click or tap on all the 'buttons' present in each toy. After every successful completion, you unlock an entirely new toy. The game's touch-friendly mechanics make it accessible to all age groups. Aiming for precision rather than speed will ensure your progression through the 80 intriguing levels.
Tips and Tricks
A common mistake is to rush through levels; remember that this is a game designed for relaxation, not speed. Patience and precision are key elements for success in TRZ Pop it. Each toy has different button arrangements, observing closely can lead to quicker completions.
Features
Addictive Gameplay: Engage in endless clicking fun with TRZ Pop it's addictive mechanics.
Variety of Levels: With 80 unique toys to unlock, boredom isn't an option.
Relaxing Experience: The game's zen-like ambiance creates a soothing gaming scenario.
User-friendly Controls: Simple controls making the game accessible to everyone.
No In-App Purchases: Enjoy unlimited popping without any hidden costs or in-app purchases.
What are the best online games?