Truck Simulator Skibidi Toilet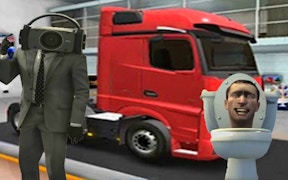 Truck Simulator Skibidi Toilet
Description
In Truck Simulator Skibidi Toilet, you will be entering the thrilling world of truck logistics. Starting with simple tasks using basic trucks, you will gradually work your way to own a multi-million dollar logistics company. As you successfully deliver cargoes and level up, you will earn skills to upgrade your fleet and handle more complex consignments.
How to Play
The game is controlled using keyboard navigation keys. You commence with delivering smaller cargoes which lets you earn money. As you amass profits, you buy more powerful trucks and take on complex jobs. Your progress unfolds by unlocking new skills like long-distance hauls or delivering fragile goods as per your gaming strategy.
Tips and Tricks
Begin with short routes to quickly level up and gain essential skills, then shift to long-haul deliveries for higher profits. Spend wisely on upgrading fuel efficiency as it can save significant funds in the long run. Lastly, handle fragile goods with care; damaging them can cost hefty penalties.
Features
Start from scratch and rise to operate a large scale logistic company.
Meticulously detailed driving simulator that tests your strategic thinking.
Vast upgrade options for trucks including fuel efficiency and cargo capacity.
A variety of challenging consignments – hazardous, fragile, long-distance and important deliveries.
What are the best online games?