Truck Driver Cargo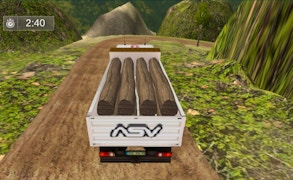 Truck Driver Cargo
Step into the world of Truck Driver Cargo, an adrenaline-fueled, high-octane adventure in the genre of racing games. A treasure amongst car games, Truck Driver Cargo shatters the usual racing clichés, throwing you into the driver's seat of heavy-duty cargo trucks traversing dangerous mountain trails.
Unlike other driving games, Truck Driver Cargo does not just test your speed; it challenges your patience, skill, and courage. The road is treacherous; every sharp turn threatens catastrophe. It's not just about reaching the finish line—it's about getting there with your cargo intact. Your foot isn't constantly on the gas—it's ready on the brake at any moment. So buckle up and embrace the essence of offroad games.
In a market saturated with racing simulators, Truck Driver Cargo stands out among truck games. It demands accurate control and careful planning, rewarding players who respect its dangerous roads and unforgiving physics. From gentle inclines to perilous cliff-edge hairpins, this game keeps you on the edge of your seat.
The core element that makes Truck Driver Cargo so appealing is its realism. This isn't just another racing game where you can crash without consequence; this is a true test of your driving mettle. Every mishap matters—a single error can mean failure, making each delivery feel like a well-fought victory.
Above all else, Truck Driver Cargo is a thrilling journey into the world of high-risk transport. It's immersive and demanding—perfect for those who love their gaming experiences intense and their victories hard-earned.
If you are someone who loves to turn up their engine amidst sine-chilling terrains then give this game a shot. Throw yourself headfirst into one of the most captivating and enthralling truck driving games!
What are the best online games?