Tricky Track 3D 2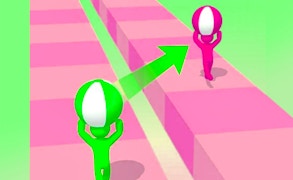 Tricky Track 3D 2
Get ready to dive into the exhilarating world of Tricky Track 3D 2, an arcade game that seamlessly blends elements of running games, ball games, and skill games. This review will take you through this exciting game that has been bewitching gamers of all ages with addictive gameplay, all-encompassing levels, and realistic simulation graphics.
The game thrives on its inimitable uniqueness, providing a gaming experience that keeps you on the edge of your seat, but also appeals to players seeking relaxed enjoyment. The labyrinth of free online levels offers endless hours of fun and ensures you never find yourself retracing old steps. With each new level, you feel like Columbus discovering a new world – the variety is simply staggering.
At its core, Tricky Track 3D 2 is a test of your reflexes and strategic acumen. Players need to aim at red targets to shoot items, demanding pinpoint accuracy akin to Robin Hood splitting an arrow in twain. But beware - if you encounter a green target, it means safe passage. Yet caution is advised as it's not just about shooting red targets - your opponent is running on a parallel track and might just throw a spanner in your works.
The competitive dynamics add another layer to this entrancing game, pitting you against cunning opponents who can stop you mid-track. It's like running a relay race blindfolded - except the baton's on fire!
All in all, the vibrant graphics, engaging gameplay mechanics and thrilling unpredictability make Tricky Track 3D 2 an unmissable treat for arcade game enthusiasts. Don't miss out on this captivating mix of running games, ball games and skill games that will keep you hooked for hours on end!
What are the best online games?