Tricky Kick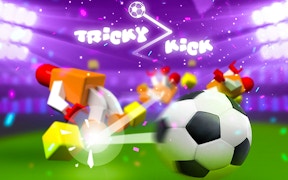 Tricky Kick
Welcome to a world of adrenalizing fun in the form of Tricky Kick, a revolutionary game that skillfully blends elements from ball games, football games, and amped-up versions of the classic soccer games.
In this hyper-casual gaming sensation that falls into the beloved category of Hyper Casual Games, you are thrust into exhilarating gameplay that keeps you on your toes, tap after tap. The fun lies in its insanely addictive nature. Don't say we didn't warn you about endless hours spent strategizing, executing perfect kicks, and scoring thrilling goals.
Tricky Kick stands out with its neatly woven strategy and precision elements under the umbrella of tap games and exciting clicker games. Use your skills to deliver an impeccable performance at just the right moment - all with a mere tap. You have the liberty to choose your path, simplifying or challenging your gameplay as you see fit.
The game engages you with over 300 diverse levels of increasing difficulty. Sounds easy? Don't be fooled - Tricky Kick is here to put your gaming mettle to a stringent test. But don't worry, overcoming these challenges rewards you with a variety of unlockable balls and delightfully cool achievements.
You are spoilt for choice with more than 14 different balls to unlock. Each one has been designed with minimalistic yet appealing 3D graphics that catch your eye. And while you're at it, prepare to cross swords with an intelligent AI that guarantees an engaging experience through countless unique challenges.
All in all, Tricky Kick offers an unmatched blend of strategy, fun, competition, and gratification - making it a must-try for any gamer seeking a fresh breath in the sphere of ball-centric hyper-casual games.
What are the best online games?