Tribe Escape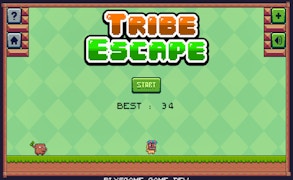 Tribe Escape
Description
In Tribe Escape, a thrilling arcade pixel game, the player is a part of an indigenous tribe. You have to run through different stages and dodge enemies that are on the prowl. The game's challenge lays in navigating through levels while collecting fruits to boost your scores. This fast-paced game will hold your attention with its colorful graphics and exciting gameplay mechanics.
How to Play
The controls in Tribe Escape are easy to grasp. Simply navigate using your arrow keys or by tapping the direction you want to go if you're on a touch-enabled device. You have to carefully steer clear of your enemies to survive the stages. Collecting fruits along the way will increase your score and make you stronger.
Tips and Tricks
In Tribe Escape, speed is crucial but so is strategy. Don't just run blindly, try to anticipate enemy movements and adjust your course accordingly. Going extra miles for fruit collection can be profitable, yet take care not to compromise your safety for extra points.
Features
Classic pixel art design takes the player on a nostalgic trip.
Energetic music enhances gameplay experience.
Multitude of challenging levels with different enemies keeps the game fresh and exciting.
Risk-reward system with fruit collection influences player decision making throughout the game.
What are the best online games?