Train Surfers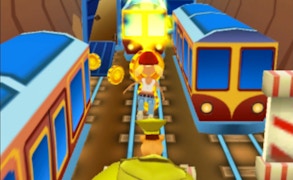 Train Surfers
If you find yourself longing for the thrill of running games combined with the audacious stunts of skateboard games, then brace yourself for a high-octane gaming experience brought to you by Train Surfers.
A sublime mix of action and adventure, Train Surfers brings the charm of classic arcade running games and skateboard games together in an epic amalgamation. You're not only running for your life, but you're doing it on a moving train! The heart-pounding adrenaline you'll experience is comparable to a roller coaster ride at the edge of your seat.
The first thing you'll notice about Train Surfers is its stunning graphics. The eye-catching 3D visuals are smooth and well-rendered, immersing players into a surreal world of endless action. The mesmerizing soundscape accompanies this visual marvel perfectly, setting the tone for an enthralling gaming experience.
The intuitive movement controls make it easy to glide your character around obstacles, pull off daring stunts on your skateboard, or quickly grind down railings - all while zooming atop speeding trains! The complex yet easy-to-grasp gameplay promises hours of non-stop action that will keep even the most hardened gamers captivated.
In conclusion, if the thrill of exhilarating run-and-skate adventures is what gets your heart racing, then Train Surfers is surely not to be missed. Its perfect blend of action-packed running games and daredevil skateboard games guarantees a blockbuster performance that will leave gamers yearning for more.
I would highly recommend stepping into this spectacular world where speed meets thrill. So, do you have what it takes to commandeer the train tracks and become the ultimate Train Surfer?
What are the best online games?