Tractor Trial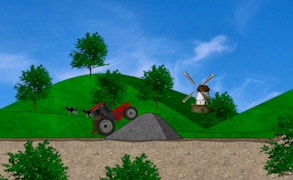 Tractor Trial
Put the pedal to the metal and jump behind the wheel of a robust tractor in one of the finest driving games, Tractor Trial. As a game that pushes the boundaries of what traditional car games offer, Tractor Trial is set to be your go-to for adrenaline-fueled fun.
In this intense off-road journey, Tractor Trial redefines the genre of offroad games. Its gameplay doesn't merely task players with racing against time. You'll need to conquer tricky terrains while maintaining balance and composure, which puts a unique spin on the ordinary truck games.
Engage your gaming senses as you acclimate yourself with different tractors, each sporting their own unique handling and capabilities. The challenge doesn't end with a simple drive around a track. It lies in managing all terrifying obstacles and crafty traps that obstruct your path, adding an appealing layer of strategy seldom found in other car games.
The undulating hills and deceptive slopes make for an exhilarating yet challenging experience. Keep in mind; this isn't just about speed, it's about precision driving too. Your tractor's balance is essential for survival, as continuous tipping or rolling can result in a catastrophic finale.
If you've been seeking for an offroad game that has it all – complex control mechanics, varied terrains, strategic play, distinctive vehicles and most importantly - fun; then Tractor Trial is your game!
In conclusion, apart from the usual thrill of racing normally seen in racing games, Tractor Trial adds layers of complexity with its off-road elements and tractor balancing mechanics. It stands out not just as another entry into the vast collection of driving and truck games but as a reinvention of what these genres can deliver.
What are the best online games?