Toy Match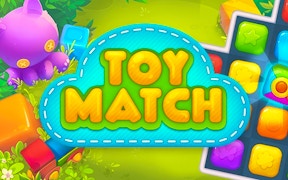 Toy Match
Immerse yourself in a world of vibrant colors and sparkling gems with Toy Match 2, the sequel to one of the most entertaining match 3 games in the puzzle genre. With over 2,500 levels, your journey through this delightful and magnetic jewel game never ends.
The first thing to strike you about Toy Match 2 is its crisp graphics that serve as a delightful visual treat. The beautifully designed jewels, paired with cool animations, simply raise the standard of bejeweled games, bringing a certain charm that is unparalleled. As you progress, your ears are also treated to an enrapturing soundtrack that adds another layer of depth to this wonderful gaming experience.
Toy Match 2 sets itself apart from other match 3 jewel games not just through its aesthetics but also with its engaging gameplay. On top of thousands of deliciously challenging levels to conquer, you are tasked with fulfilling Daily Missions and Challenges. Accomplishing these bestows upon you a cornucopia of cool extras and gifts including both coins and power-ups that provide you valuable aid in your quest.
The fun doesn't stop there. Embark on quests like the thrilling Treasure Hunt offering great prizes which add more excitement to what's already an engaging gaming experience. The diverse features packed into Toy Match 2 are what make it one of the best match 3 games out there today.
So put a pause on reading this review now! Dive headfirst into this enchanted realm of jewel games and let Toy Match 2 cast its addictive magic over you for absolutely free!
What are the best online games?