Tower Run Online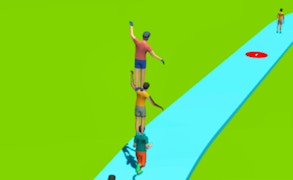 Tower Run Online
Step into the pulsating world of Tower Run Online, a high-energy arcade game that seamlessly blends elements from running games, skill games, and building games. This innovative arcade masterpiece will have you jumping, running and stacking like never before, commanding your attention with its exciting gameplay.
Tower Run Online starts with an engaging concept: running in a truck loaded with obstacles. But it's not your ordinary run. The unique twist? You can jump on the shoulders of others when you stand on unique areas known as 'rea circles'. This feature infuses the game with a depth and complexity that elevates it beyond a simple run-and-jump platformer.
Imagine running up a human pyramid - because that's exactly what you'll be doing here! In an intriguing blend of ancient history and modern gaming, Tower Run Online allows players to build towering pyramids by jumping over walls. But be careful: this is no easy feat. The higher your pyramid, the more coins you can collect at the end.
These coins play a crucial role in unlocking new characters. As you navigate the labyrinthine, obstacle-filled truck, each coin brings you one step closer to unlocking all characters, adding another layer of accomplishment to your gameplay.
In essence, Tower Run Online is an addictive mashup of running games, skill games and building games that offers an unparalleled gaming experience. Its creative gameplay mechanics set it apart from other arcade games on the market today. Strap yourselves in for this thrilling ride - because Tower Run Online is a journey worth every step.
What are the best online games?