Tower Boxer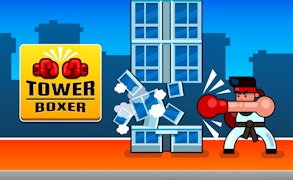 Tower Boxer
Description
In Tower Boxer, you step into the shoes of a boxing champion with a mission to demolish entire skyscrapers using only your fists. This game offers an odd twist to classic boxing games, requiring both speed and precision. The goal is to strategically punch the tower from either side while avoiding incoming balconies.
How to play
The game is primarily controlled by tapping or clicking on either side of the screen to punch the tower. Your punches should be strategically placed - aim for the weaker sections of the tower and avoid balconies. As you progress, the game gets faster so maintaining your quick reflexes is key.
Tips and Tricks
Focus more on accuracy instead of speed, don't be in a rush to hit every part of the tower. Avoiding balconies is crucial for survival in this game. Additionally, target weaker spots to bring down the tower faster.
Features
Intense arcade gameplay: Fast-paced, quick reflex demanding, and progressively difficult levels.
Innovative concept: A unique blend of boxing with a demolition objective.
Challenging mechanics: Requires strategic placement of punches and swift avoidance of balconies.
Casual clicker game: Easy controls make it accessible for all players.
What are the best online games?