Tower Blocks Deluxe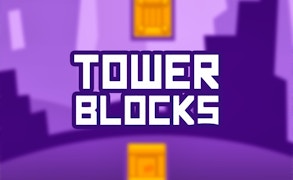 Tower Blocks Deluxe
Description
In Tower Blocks Deluxe, you become a master builder aiming to construct the tallest tower. This game is all about precision and timing. Each block must be perfectly aligned on top of the previous one to build a stable structure. If you miss, the block falls, and your tower becomes unstable. The goal is not only building high but also maintaining stability to reach the moon!
How to play
The controls are simple yet tricky. Just click or tap to drop each block on top of the previous one. The key is timing - if you drop the block too early or too late, it will fall off, diminishing your tower's height. Your progress is measured by how high your tower grows before it collapses.
Tips and Tricks
Patience is crucial in Tower Blocks Deluxe. Focus on aligning each block perfectly rather than hastily placing them for height. Remember, a stable tower grows taller than an unstable one. Keep a keen eye on balance and adjust accordingly for a higher score.
Features
Simple yet addictive gameplay: Easy to learn controls but challenging gameplay keeps you engaged.
Addictive progression system: The higher you build, the tougher it gets, making for unlimited replay value.
Fantastic graphics: Beautiful visuals and animations provide an engaging experience.
High-score system: Compete against yourself, trying to beat your best tower height.
What are the best online games?