Touchdown Pro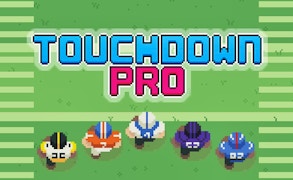 Touchdown Pro
Welcome to the exhilarating world of Touchdown Pro, where you're not just playing a game, but living the nail-biting tension and frenzied excitement of real-life football games. This is an offering that syncs perfectly with fans looking for riveting running games with a twist.
The central premise of Touchdown Pro is as simple as it is irresistible. You are on a pixelated football field, the touchdown line in sight. But catch - a plethora of opponents are gunning for you, eager to deliver a tackle that'll stop you dead in your tracks. It's not just about running; it's about outmaneuvering your rivals, anticipating their moves, and then stepping on the gas to cross that crucial line.
Touchdown Pro thrives on its unlimited gameplay. There are no levels here; only an endless, adrenaline-soaked rush towards victory. The thrill is in earning touchdown credits, which you can use to unlock stronger players. The better you get at this game, the tougher your avatar becomes - which indeed turns it into one of those deceptive 'easy to learn but difficult to master' pixel games.
A standout feature in Touchdown Pro has to be its 'Matrix mode'. If there ever was an innovative twist in football games, this is it! Transform the pitch into slow motion and view each opponent, planning your next move with strategic precision. It's like seeing the matrix code of football; every move plotted out before it even happens.
In conclusion, Touchdown Pro's vibrant take on traditional sports games, coupled with its unique features, makes it a must-play for anyone seeking a gaming experience that blazes trails rather than follows them. Turn your gaming routine into an electrifying sport battle now!
What are the best online games?