Touch Drawn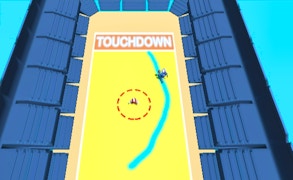 Touch Drawn
If you've been on the hunt for an innovative, engaging combination of ball games, football games and surprisingly, drawing games, look no further than the exhilarating world of Touch Drawn.
In this gripping journey, football is brought to life in a surreal tapestry where your pointer becomes the master tactician and artist. Forget traditional controls; you are now armed with the power to create a dynamic route for your football player, carving through rival defenses like a hot knife through butter. The Touch Drawn is not just a game, it's a canvas for you to paint your soccer strategy masterpiece.
The suspense-filled gameplay keeps you on your toes as rival football players emerge as moving obstacles, challenging your path drawing skills. Just when it couldn't get any more innovative, Touch Drawn allows you to take charge by strategically moving your teammates. The result? A perfect blend of strategy and action making for some truly Hyper Casual Games fun!
This isn't about just kicking a ball around; it's about planning and executing. It's about overcoming obstacles, literally thinking ahead of the ball and weaving through challenges like an exquisite ballet performance - all towards one goal - getting to the goal line! With 100 different levels, this isn't just a game you play; it's an adventure you embark upon.
Your squad ain't generic either! Choose from an enthralling roster of 16 different football players, each with their unique style and flair adding character depth rarely witnessed in hyper-casual games.
Touch Drawn remarkably combines elements from various genres like sports games and drawing games crafting an unusual but thrilling gaming experience that keeps gamers engaged for hours.
What are the best online games?