Touba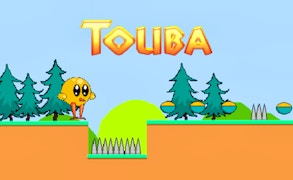 Touba
Description
In the spirited adventure game Touba, you take the skies as a vibrant yellow bird. Your mission? Collecting bowls of life-supporting grains. But beware! The path to your bird nest isn't easy. Dangers such as enemy birds and perilous spikes lurk in the deceptive tranquility of these 8 levels, each demanding more skill than the last.
How to play
Navigate your feathered character using either the "WASD" or "Arrow" keys on your keyboard. To make a leap of faith, press the "W" or "Up" arrow key twice for a nifty double jump. Throughout your journey, ensure you reach the safe haven of your bird nest to advance to the next level.
Tips and Tricks
Mastering the art of double jump can make or break your journey across treacherous terrains. Remember, enemy birds might seem intimidating, but perfectly timed jumps can help you avoid them. Always be on the watch for spikes as they can end your flight prematurely.
Features
Vibrant 2D graphics: This classic platformer style game is beautifully designed with eye-catching colors and engaging characters.
Pulse-pounding gameplay: With increasing levels of difficulty, this game guarantees hours of thrilling gameplay and perfect for honing platforming skills.
Tactical strategy: Carefully planned movements and timely double jumps are key to overcoming obstacles and enemies.
What are the best online games?