Tommy and the Fire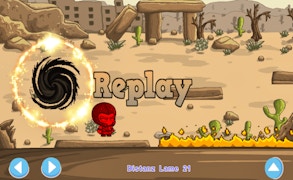 Tommy and the Fire
Description
Dive into an adrenaline-filled adventure with Tommy and the Fire. Speed, danger, and exhilaration converge in this thrilling race against time. As Tommy, your mission is to sprint towards the finish line while evading a deadly blade. With every second ticking away, it's your survival skills and agility that'll keep you alive in this high-stakes chase.
How to play
To control Tommy, use your keyboard arrows to navigate through the course. The game requires precise timing to dodge the lethal blade. As you progress, the game increases in speed and difficulty, presenting more complex routes and faster blades. Reach for the finish line and establish new records.
Tips and Tricks
The key to victory is timing and anticipation. Don't rush blindly; instead take note of blade patterns. Predicting their movements can help avoid life-threatening situations. Always stay one step ahead of the game by planning your path accordingly.
Features
Racing Adventure: Thrilling fast-paced gameplay keeps you on edge.
Persistent Threat: The looming blade provides a constant challenge.
Different Levels: Diverse courses with varying levels of difficulty
Slick Controls: Easy keyboard navigation for seamless gameplay.
Epic Survival: The ultimate test of speed, skill, and strategy.
What are the best online games?