Toilet Paper Please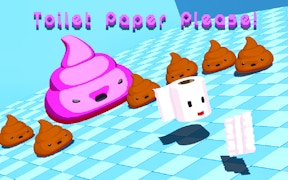 Toilet Paper Please
Are you a fan of arcade gaming who loves an adrenaline-fueled rush against the ticking clock? Then you'll fall head over heels for the new sensational, hyper-casual game so aptly named, 'Toilet Paper Please'. This wildly entertaining offering in the realm of fun games is packed with thrill and amusement at every turn.
The premise is simple but hilarious. You embody a roll of toilet paper, embarked on a mission to gather all the scattered pieces around levels designed with refreshing creativity. But wait, there's more to it than just a mad TP scramble! As an additional and rather amusing challenge, you're also tasked with dodging 'vicious poo' bouncing about, making your expedition around each level all the more perilous.
Just when you think it can't get any wilder, 'Toilet Paper Please' further spices things up by throwing dangerous obstacles onto your path. These unforeseen hindrances keep you on your toes and make every successful venture incredibly rewarding. With 45 exhilarating levels to outwit and conquer as well as three monumental bosses to defeat—this game is bound to provide hours of captivating gameplay.
If these trials sound daunting, fear not—the controls are straightforward and intuitive, allowing players to easily navigate their way through. So do not wait any longer! Delve into this world where even loo paper has a mission, tackle the fun-filled challenges it stands ready to offer, and trust me—you'll be glued to your screen for hours on end!
In summary,'Toilet Paper Please' provides an arcade gaming experience like no other—a perfect blend of hilarity and challenge that guarantees unlimited fun in the realm ofhyper-casual-games.
What are the best online games?