Tiny Red Bird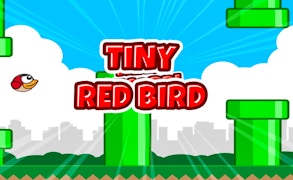 Tiny Red Bird
Description
Discover the exciting thrill of guiding a Tiny Red Bird through a perilous sky filled with deadly obstacles in this charming arcade game. The simple joy and challenge of keeping your feathered friend aloft come together to create an addicting gaming experience. Every new obstacle tests your skill, keeping you on your toes as you aim to break records and challenge your friends.
How to Play
Conquer the sky with just one finger! Tap or click to make the bird fly higher. Be careful, though! Flying too high or too low will end your journey abruptly. The game evolves in difficulty as you progress, with more obstacles appearing the longer you survive. The key is rhythm. Master the timing of your taps or clicks to guide the bird safely through.
Tips and Tricks
Stay calm and focused. A steady rhythm of taps or clicks is essential for success! Also, don't be discouraged by failures; they're part of the learning process. Remember to study each obstacle's pattern before diving headfirst - sometimes, patience can lead you to higher scores than reckless haste.
Features
A simple yet challenging gameplay mechanic that keeps players engaged.
The ability to challenge friends and compete for high scores adds a competitive edge.
Progressively increasing difficulty keeps players constantly challenged.
Catchy visuals and sounds that give life to Tiny Red Bird's adventure.
What are the best online games?