Tina - Great Summer Day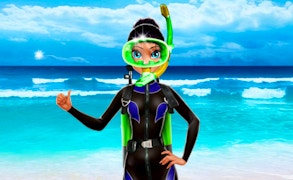 Tina - Great Summer Day
Immerse yourself in the sun-soaked world of Tina - Great Summer Day, an enchanting game, tailored especially for those who adore games for girls. It's a colorful, fun-filled visual wonderland that perfectly blends elements of dress up games and makeup games, delivering a truly engaging and unique gaming experience.
This game invites players to join Tina on an unforgettable summer journey. Tiptoeing between the gleaming beach and a romantic hot date, it features a variety of activities that will keep you engaged for hours. Not only does it provide a playful escapade but also fine-tunes the fashion senses of its players.
The strength of this game lies within its three-tiered gameplay. First, you accompany Tina as she goes diving in the azure blue sea, surrounded by stunning graphics that transport you straight to summer vacation. Then comes the much-loved part of dressing up Tina for her evening date. Play around with trendy clothes, sparkling accessories, chic hairstyles — experimenting with limitless combinations until you've crafted the perfect look.
But it's not just about clothes! As many seasoned lovers of makeup games know — no outfit is complete without the right makeup! End your day in the sun with Tina by choosing from an array of stylish makeup options to complement your fashion choices. From flirty eyelashes to glossy lips, this game ensures you leave no stone unturned when it comes to beautifying Tina.
Tina - Great Summer Day is more than just another addition to dress up games for girls. It's an ode to summer, fashion and fun – capturing all the ingredients required to make every girl's gaming experience memorable. So why wait? Let your creativity run wild and revel in the joyous escapade with Tina!
What are the best online games?