Tina - Detective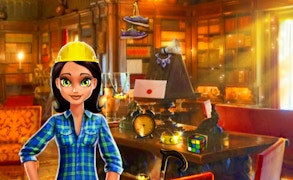 Tina - Detective
Embark on a thrilling adventure into the captivating world of detective mysteries with the ultimate Games for Girls, Tina - Detective. This incredibly dynamic game channels the inner Sherlock Holmes in every young lass, making it an appealing agent of entertainment.
With a perfect blend of Dress Up Games and Makeup Games, Tina - Detective tantalizingly merges fashion and intrigue. Players not only solve complex cases, but they also get to glam up Tina, our fearless private detective, according to their style preference. Whether it's sequin dresses for an undercover mission or a smart blazer for a day at the office, the options are endless and exciting.
The game takes you deeper into the enchanting world of detective mystery with its cleverly incorporated element of Hidden Object Games. Scavenging through various scenery for clues needed to crack the case enhances their cognitive skills and keeps players thoroughly engaged. Moreover, each scene is crafted with meticulous attention to even minute details ensuring a visually stunning gaming experience.
The standout quality of Tina - Detective is its impeccable storyline. The game serves up a captivating plot that keeps players glued while they help Tina solve top-secret cases. With every new clue unearthed and each mystery unraveled, players are drawn deeper into this immersive world of intrigue.
In conclusion, Tina - Detective is so much more than just another Girls Game; it's an enriching amalgam of dress-up & makeup elements paired with a riveting detective narrative that keeps players invested right till the end. It truly encapsulates a thrilling venture into the realm of teenage sleuths!
What are the best online games?