Time Witch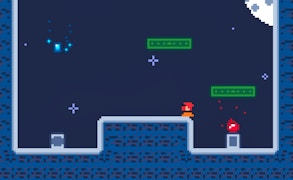 Time Witch
Step into the magical, pixelated world of Time Witch, an adventurous take on the traditional puzzle platformer. As the name suggests, players take on the role of an enigmatic witch with the power of time distortion at her fingertips. This beguiling blend of pixel games, skill games, and escape games offers an immersive experience that keeps you on your toes and continually challenges your abilities.
The game is a masterclass of intricate detail, each pixel carefully rendered to bring this mystical world to life. The vintage aesthetic only adds to the overall charm, proving once again that retro is indeed timeless. More than just delightful eye candy, Time Witch showcases intricate gameplay mechanics that demand both strategy and quick reflexes.
The core mechanics revolve around cleverly using your time-altering abilities to dodge enemies and overcome obstacles. This isn't your typical run-of-the-mill game where brute strength wins—it's about outsmarting your adversaries and mastering your environment, making it a standout in the genre of skill games. The puzzles are ingeniously designed, challenging players to harness their creativity to progress through each level.
But what truly sets Time Witch apart is its tense yet tantalizing escape sequences. As you navigate twisted labyrinths and avoid relentless pursuers—a staple element in escape games--the thrill of making seemingly impossible escapes keep players consistently engaged and hungry for more.
In essence, Time Witch marries the splendor of pixel art with innovative gameplay mechanics that test a player's adaptability and strategic prowess in a fantasy setting. It's a delightful brew that satisfies our thirst for something unique in the vast sea of adventure games out there.
What are the best online games?