Tiger Jigsaw Image Challenge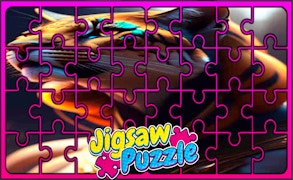 Tiger Jigsaw Image Challenge
Description
Embark on a thrilling visual journey with Tiger Jigsaw Image Challenge! This captivating puzzle game offers a unique blend of jigsaw puzzles, testing your eye for detail and problem-solving abilities. Slide images around to fix them and observe as the fragmented pieces transform into stunning pictures of majestic Tigers. The game presents an extensive array of Tiger Jigsaw pictures, providing you with numerous exciting challenges.
How to play
The objective is simple - recreate the Tiger image. Select a picture and it disintegrates into sliding puzzle pieces. Your task is moving these parts around until they align perfectly forming the original image. Progress through the game by solving each puzzle, taking you on a visual tour of various enchanting Tiger images.
Tips and Tricks
To excel, make sure to plan your moves ahead. Focusing on one section of the puzzle at a time can be beneficial. Look for pieces that clearly belong together, such as those with continuous patterns or colours. Don't rush; patience is key to piecing together these beautiful Tiger images.
Features
Variety of Challenges: Offers an extensive assortment of Tiger Jigsaw puzzles.
User-friendly Interface: Easy-to-navigate controls make the game engaging and enjoyable.
Visual Delight: Assemble beautiful images of Tigers in their magnificent glory.
Cognitive Enhancement: Enhances visual acuity and problem-solving skills through engaging gameplay.
What are the best online games?