Purple Roses Puzzle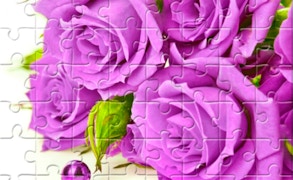 Purple Roses Puzzle
If there's one thing that captures the essence of fun and brain training, it has to be Purple Roses Puzzle. Think of it as your perfect comrade in arms for those lazy afternoons, a splendid way to keep your child's mind buzzing with activity. This no-holds-barred wonder offers a smart mix of both - brain games and Games for Girls.
As its name suggests, Purple Roses Puzzle isn't the run-of-the-mill puzzler. Indeed, the captivating aspect of this game lies in its anime girl theme adorned with flamboyant purple roses. The game unravels six different images, each more bewitching than the last, promising to keep players, especially young girls hooked until the very end.
The game shines in its simplicity but also provides a tantalizing challenge. You can choose from four different modes for each picture. Whether you want a quick game with 16 pieces or a more challenging one with 36 pieces or even an ultra-complex puzzle with 64 pieces and 100 pieces – it has got it all! And here is where Purple Roses Puzzle soars above many games in its genre; the varying difficulty level keeps kids' intellect on their toes while ensuring they never get bored.
But don't let its pretty facade fool you; amidst these blooming roses and an enchanting anime girl lies a rigorous workout for your neurons. That's right! It's more than just diversion; it's about keeping your brain sharp while having fun. So parents looking for an engaging yet beneficial pastime for their daughters – look no further than Purple Roses Puzzle!
The beauty of this game doesn't end here though. It's also about trial and error, learning from mistakes – qualities we'd like our kids to develop. So if you're searching for a perfect blend of entertainment and education, or simply something to keep your child happily engaged - Purple Roses Puzzle could be just what you need!
What are the best online games?